Children are being impounded by the hundreds, rending categories apart. Americans can no longer stand idly by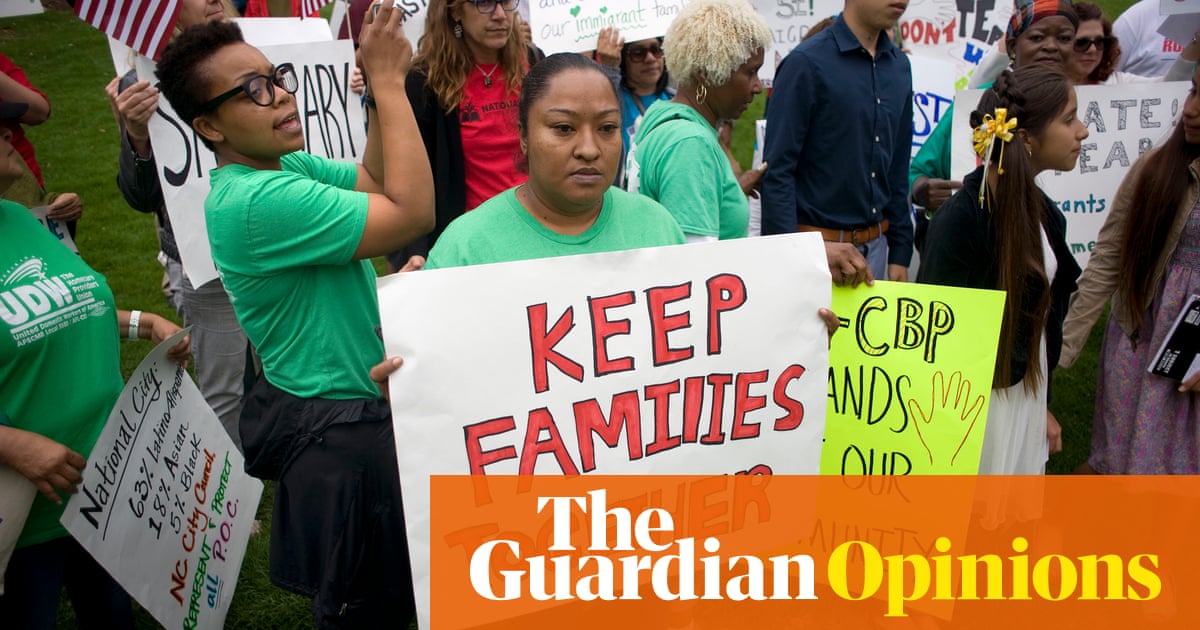 In March, John Kelly, then the homeland security secretary, feel sure that scattering migrant categories- forcefully taking children away from their parents in this country and at the US-Mexican border- would serve as an efficient discouraging to undocumented immigration. In April, the New York Times reported that of the more than 700 children clutched from their parents during the previous six months, more than 100 were under the age of four.
In early May, the united states attorney general, Jeff Sessions, announced that the justice department's newly tough" zero tolerance" plan would prosecute every person- even asylum seekers, even small children- bridging their own borders illegally. Last month, Steven Wagner, an official with the department of health and human assistances, told a Senate committee that his agency had" lost racetrack" of 1,475 immigrant children which has now been grabbed after crossing the US-Mexican border; some of these girls, it was feared, had been turned over to human traffickers. The ACLU and the Human Rights Clinic at the University of Chicago Law School have also billed that US border protects pulsate and abused migrant children, and threatened them with sexual violence.
The press has featured wrenching narrations and photographs of children, some of them very young, being taken from their own families. A Congolese asylum seeker and her daughter were kept in disconnected detention centre for four months. In April, the ACLU reported that a Honduran mother had been removed from her 18 -month-old toddler for two months. We've seen epitomes of children caged in cells like stray puppies at a shelter; children clustered on cots under thin Mylar coverings; of sobbing parents hugging their terrified children while in-migration police wait to grab the tearful minors.
According to a recent floor in the Houston Chronicle, children as young as 18 months ought to have behaved without their parents. A dame whose husband was killed by gangs in El Salvador realise her 13 -year-old son taken away at the US border- and officials refused to tell her "where theyre" maintaining him.
Do we believe that these parents affection most children less than we do? Can we not envisage these frights happening to our teenagers? Do we imagine that these toddlers are less feared, flustered and heartbroken than our children would be if they were rent from our limbs by strangers in garb? Do we not worry that the effects of this pain may continue to damage these children( and their parents) for the rest of their own lives?
Do we believe that these children are less priceless, little treasured, less human than Ivanka Trump and Jared Kushner's three-year-old son, whose photograph Ivanka tweeted as she braced him in her forearms in an image of radiant mother-child joy? Probably, the baby's grandfather does be considered that his grandson belongs to a more evolved species than the children of migrants whom he has referred to as "animals"- children whom, according to one edict, he is planning to repository on military bases. And how different would Ivanka's image of joyful maternity appear if an impatient, predatory mete protect, ready to clutch "their childrens", were Photoshopped into the picture?
One wonders how we would greeting if the entire student population of three midsize elementary schools vanished without a draw, or if hundreds of American mothers, arriving at the end of the day to pick up their girls, were told that they couldn't have them- that they had been moved away, and their whereabouts were unknown. Maybe they were in foster homes or detention centers; maybe, they had been shopped out to traffickers. Surely there would be a groundswell of resentment and stupor, of agony and lament, a nationwide demand for an inquiry.
In fact, popular opposition to these heartless plans has resulted in an increase. The ACLU has registered a class-action suit challenging the Trump administration's policy of separating asylum seekers and their children. A number of foremost Democrat have spoken out; Kamala Harris, the Democratic senator from California, has announced kinfolk dissociations" sinful … outrageous, atrocious, and inhumane ". In The New Yorker, Masha Gessen referred to the forced removal of children as a flesh of" position fright" comparable to the extravagances and bullying tactics of the Putin regime.
So what can we- people who care about children and their parents, people who still have compassion, people who believe that fractioning these households is a violation of their basic human rights- do? We can text and write our congressional special representatives and work to regain Democratic power of Congress during the midterm ballots, though- since mass expulsions were implemented during the Obama administration – it's not entirely clear that a Democratic-controlled Congress will stand up for these refugee families.
We can volunteer our time and donate to national and local grassroots establishments fighting these policies in tribunal and working to help the families most affected.( A long listing includes the ACLU, the Florence Immigration and Refugee Rights Project, the Women's Refugee Commission, the Lutheran Immigration and Refugee Service, Maldef, the Hope Border Institute, and many others .) This website offer a helpful list of steps that can be taken and applications that can be signed. A nationwide procession is planned in metropolis across the country on 14 June.
But none of that, it seems to me, is enough.
In the months since Donald Trump's election, I've been surprised, and not especially pleased, by my own they are able to absorb each new anger, each new stupor -and move on. But not this one. Perhaps because I've wasted so much of my adult life around children, perhaps because I have children and now grandchildren of my own, such reports and epitomes of these devastated families have been deterring me awake at night and recurring my daytime hours. And I believe that this should be keeping all of us awake.
The fact that these things are occurring right now should be foreclosing us from imparting business as usual, from gone on with our ordinary lives, from neglecting the spurs of conscience. We should be taking to the streets, boarding buses to see for ourselves what is transpiring at these border crossings, checkpoints and detention centers.
Because if we know what is happening and do nothing, we will be no differences between the" innocent viewers" and witnesses to the mass detentions, the grievous violations of human rights and genocidal crimes- witnesses who, throughout record and after the facts of the case, have claimed: we didn't know. We didn't see. There was nothing we could do.
Read more: www.theguardian.com