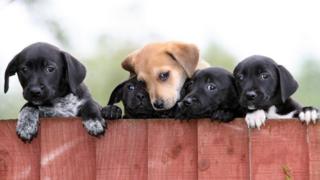 A ban on puppy auctions by domesticated shops and other third-party pushers in England is being considered by the government.
Under the proposals, beings buying or choosing a dog would cope instantly with a breeder or rehousing centre.
Environment Secretary Michael Gove said the plan would be examined as part of a brand-new container of actions aimed at driving up welfare standards.
Enhanced licensing conditions for breeders are already due to come into force this year.
Under the brand-new conventions, breeders or sellers of pups must be licensed and will not be able to sell puppies and kittens under eight weeks old.
Puppies must also be shown alongside their baby before a sale is drawn, and – amid fear over online sales – purchases must be completed in the presence of the brand-new owner.
'Puppy trade crisis'
Last year, the Department for Environment, Food and Rural Affairs recommended a ban on third-party marketings could lead to the creation of an illegal market.
But the Dogs Trust welcomed the government's recent pondering on the issue, which is subject to a consultation .
Paula Boyden, veterinary chairman for the Dogs Trust, pronounced: "If a prohibit was established now, puppy farmers could exploit loopholes such as giving themselves up as unregulated re-homing centres or sanctuaries.
"Licensing and inspection of dog breeders and marketers must also be stronger to ensure that everyone involved in the trade is on the radar of local authorities."
RSPCA deputy chief executive Chris Wainwright answered: "We have always said that an end to third party auctions alone would not be enough to end the puppy sell crisis, and we are pleased that this is being looked at alongside deepened licensing conditions for breeders."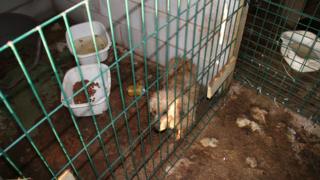 The charity's chief inspector Ian Briggs answered detectives had experienced hounds and puppies "covered in filth" while kept in cold, mute pencils with no lighting by breeders and traders involved in the underground puppy trade.
He read: "We've likewise spotted minuscule puppies kept in containers amongst the dead bodies of their siblings."
The Mayhew Animal Home charity foreground the case of vehicles of Luna, a Jack Russell terrier who was sold online despite being ill with a suspected skin disease.
At six weeks age-old, Luna was already under the legal age is necessary in order to puppies to be sold – but the seller claimed the young puppy was 10 weeks old.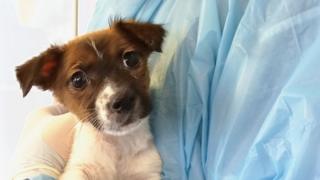 A Mayhew spokeswoman said the brand-new governs, due to come into force at the end of October, will ban third-party auctions like in Luna's case.
And Mayhew's chief executive Caroline Yates read: "Getting a pup or feline is not a commercial-grade the enterprises and the big puppy farms have no thought for the health or welfare of animals.
"Owners are being deluded into buying animals from these places."
In another case, the Dogs Trust supposed a French bulldog announced Lola was forced to travel from eastern Europe so her puppies could be born and sold in the UK at a higher cost. Two of her puppies afterwards died.
"The law is not protecting these hounds and we need to be absolutely sure that future legislation is properly resourced and enforceable, " the benevolence said.